After getting lots of candy, carving a pumpkin is definitely the funnest part of Halloween. This year our www.justbuildstuff.com pumpkin is pretty simple, we just carved the phrase "Trick or Treat?" into the pumpkin.
To make the pattern used to cut the words from, we printed out the words on a sheet of 8.5″ X 11″ paper (you can pick the font and size to suit your own tastes). Then we taped the words to the pumpkin.
To give us an outline on the pumpkin to cut from we poked holes through the paper to leave a pattern that we could cut along. After we poke the hole, we use a little saw and a knife to cut the letters out.
After all the letters are cut we clean out the inside of the pumpkin, saving the seeds for roasting, then we put a light inside the pumpkin and watch it glow!
This post explains how to make a craft that is both practical and sentimental – a trick-or-treat memory bag. Once again, my subscription to Family Fun magazine provided me with a great idea for a holiday craft. To create this item you will need a plain canvas bag and either permanent markers or fabric paint. Simply lie out the canvas bag and let your artistic talent go to work as you draw a Halloween design. As my daughter is still very young, I am making a bag for her. I decided that I would decorate her trick-or-treat bag by documenting what her Halloween costume is each year. In the future, she can look back at all of her costumes and remember what she dressed up as in the past. Or, if you are having a Halloween party, it might be fun to provide a canvas bag to each of the partygoers and have each of them autograph the bag and list their costume.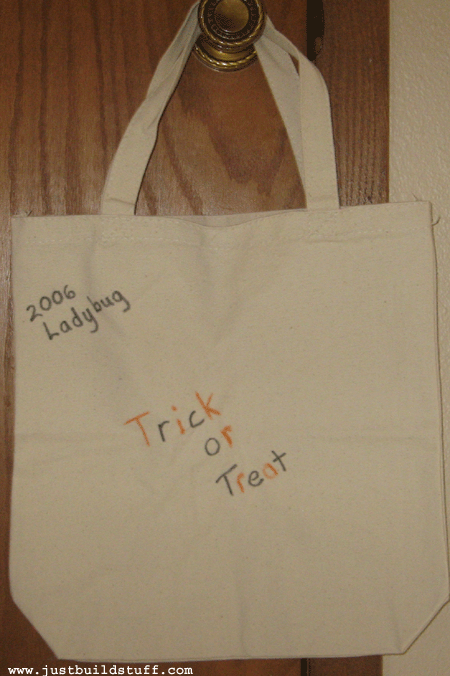 Halloween is a time of spooky fun and imagination. When I was young, I had so much fun dreaming up with what I wanted to be. This bag helps document the fun and creativity of a child and is a great tradition to add to anyone's Halloween.
Light the way for trick-or-treaters this Halloween with spooky ghost lanterns! I love to create crafts, especially ones I can work on with my daughter. Thankfully, I have a subscription to Family Fun magazine that is loaded with creative and inexpensive ideas. This idea came from the October 2007 edition. I started preparing to make this project a couple weeks in advance as it calls for several plastic gallon milk jugs. After we finished drinking the milk I thorougly rinsed the jugs so we wouldn't greet our trick-or-treaters with a sour milk smell. Once I had collected several jugs we took a black marker and drew ghost faces onto the jugs. We had a blast trying to make each face unique! *Remember to wear art clothes just in case you get some marker on yourself.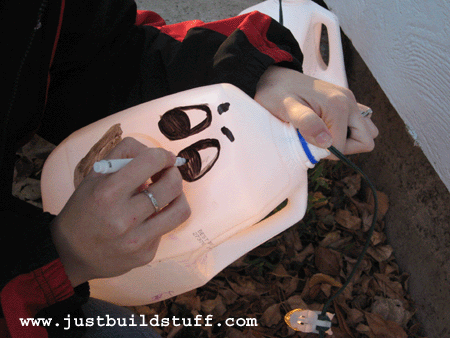 Next we plugged in a string of holiday lights and dropped a bulb down each jug. (In Family Fun, they recommend cutting a half-dollar size hole in the back of each jug so you don't see the string.)
Not only are these ghosts fun to make, but they are also inexpensive. Furthermore, I think they will help trick-or-treaters stay safe as they will be walking on a well-lit path. Plus it helps put everyone in the holiday spirit!