Build a Ladder Ball Golf Game- Build The Ladder!
***Update- There is  now a video version of the ladder golf build click here to view -> http://justbuildstuff.com/?p=448***

Yesterday we introduced the ladder golf ball game and today we are going to go over how to build the ladder structure. The ladder structures are built out of 3/4″ PVC pipe (note that 3/4″ PVC pipe has a 3/4″ inside diameter and approximately a 1 inch outside diameter). To build Two of the ladder structures you need to buy the following items from you local home center.
5- 10 foot long sticks of 3/4″ PVC pipe
12- 3/4″ PVC "T" fittings
12- 3/4″ PVC 90 degree fittings
The next step is to cut the PVC pipe. For each ladder structure you will need the following.
9- 2 foot long pieces
6- 1 foot long pieces
To build one ladder assembly you should have everything in the photo below. Double the quantities to build two structures.
Now comes the fun part. Put the pipes together into the ladder assembly. You can use the photo below as a guide if you need to. I did not glue my structure together, because I would like to have the ability to disassemble it for storage and it seems more than strong enough without glued joints.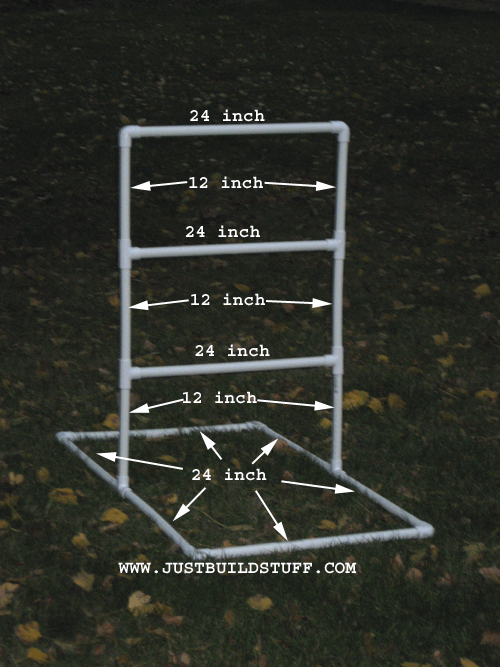 In the next posting we will drill some holes in golf balls and make the bolas to throw at the ladder.
If you are interested in other PVC projects check out our PVC Flagpole project.