Build a Ladder Ball Golf Game- Make the Bolas!
***Update- There is  now a video version of the ladder golf build click here to view -> http://justbuildstuff.com/?p=448***

In the previous post we built the ladder portion of the game, now it is time to make the bolas. A bola consists of two golf balls, one on each end of a string. Hopefully justbuildstuff.com can provide some tricks to make construction easier.
Here are the supplies that you will need to make a set of three bolas.
18 Golf Balls (I used 3 different colors and 6 balls of each color)
25 feet of ¼" nylon rope
I also recommend having the following tools
Always remember to use care and precaution when working on any project. Always wear the appropriate personal protection equipment such as safety glasses and gloves. Never operate power tools or equipment you are not familiar with, always read owners manuals and don't be afraid to sign up for some classes in you community that will teach you how to use power tools and equipment.
The trickiest part of this project is drilling a perfectly centered hole through the golf ball. The best way I have found to do this is by clamping a scrap piece of wood to the table of my drill press and drilling a 1 inch diameter hole in the board using either a 1 inch diameter spade or forstner bit (see photo below). We drill this hole because it is centered with the center of the drill bit.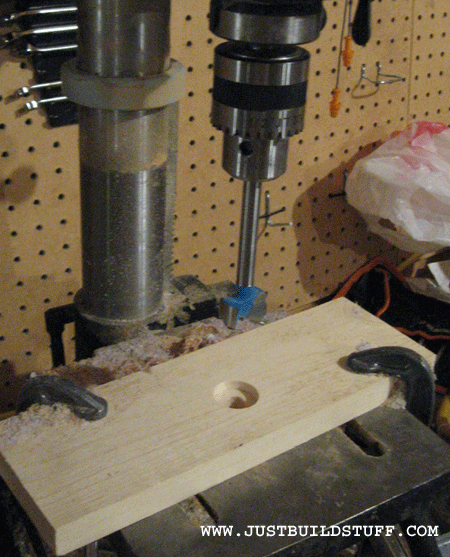 Now without moving or adjusting the drill press table with the drilled board attached remove the 1 inch diameter drill bit and replace it with a ¼" diameter bit.
Now it's time to drop the golf ball down into the hole we drilled, notice how it sits perfectly centered with the drill bit. Hold the golf ball with a vise, or channel locks to keep it from spinning. Slowly drill the hole all of the way through the golf ball (see photo). Repeat this with the rest of the golf balls.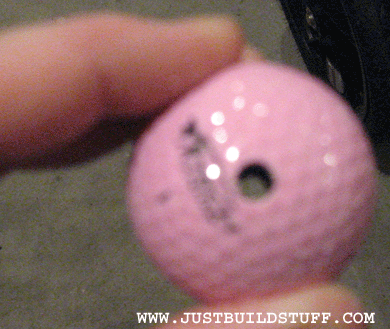 The golf balls are drilled, now we thread the ¼" nylon rope through the holes. It helps to have a good clean end of the rope to make the golf balls slide on a little easier. I tied knots in each end of the rope so the outsides of the golf balls were approximately 20 inches apart. After tying the knots I melted the frayed edges of the rope to keep it from fraying further.
Now just repeat this for the other eight bolas and you ladder ball golf set will be complete!!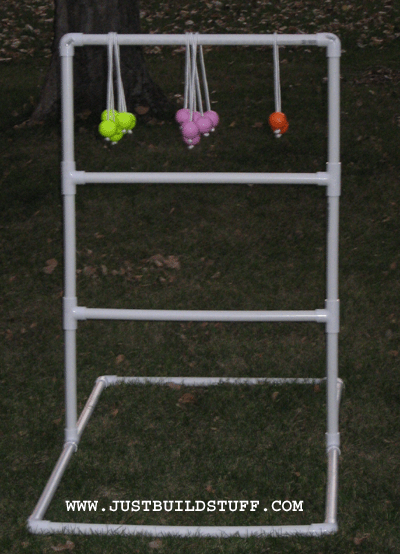 If you missed them you can check out