Build a Ladder Ball Golf Game!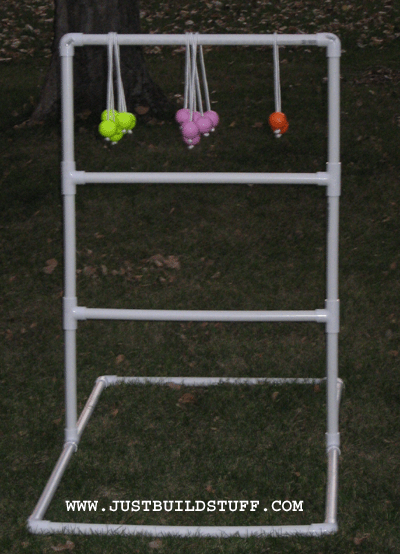 ***Update- There is  now a video version of the ladder golf build click here to view -> http://justbuildstuff.com/?p=448***

Here is another project for our series of how to build toys. This one is a game, one that has recently become popular under many names. I think the most commonly accepted name is ladder ball, but I have seen it referred to as Norwegian Golf, bolo ball, bola ball, hillbilly horseshoes and many others. The game consists of throwing bolas (golf balls on a rope) at a ladder structure; see the Wikipedia page for more information about ladder ball. This is another project that is built almost entirely from pvc pipe, which I find to be incredibly easy to work with and inexpensive to purchase. The project is split into two parts; in the first part, we will build the ladder structure and in the second part, we will make the balls, or bola that are thrown at the ladder structure.
How to build the ladder structure can be found here!