Even a kids toolbox is not complete without a good saw.  For filling out that toddler toolbox you can download our pattern and cut one on yourself.
This toy saw can be made from a scrap of 1/4″ plywood or any other 1/4″ thick material you choose.  It consists of three pieces easily cut on a scroll saw.  Click here or on the picture below to downoad a free pdf of the pattern with instructions and then you can follow along with the pictures below to see how I made mine.
You can see in the picture below I cut the three parts of the saw from an 8″ X 10″ piece of scrap 1/4″ plywood.
I then glued and clamped the boards together.  I used Gorilla Wood glue, but any polyurethane wood glue should work fine.  Make sure to remember to use a piece of scrap material under the clamps as to not dent the wood.


Finally I hand sanded the saw to 220 grit.  You can finish the saw with the child safe finish of your choice or you can leave the toy unfinished.
Thanks for viewing this project.  Please leave any questions, problems and comments you have below.
For Christmas this year I am building my daughter a high chair for her dolls.  I just finished the design and am putting the plans I created out right away.  The plans are free to download click here to download a pdf of the doll high chair plans or click on the picture of the print below.  I use a Kreg pocket hole jig similar to this one from from Amazon (link by clicking here) to attach all the butt joints together, but you could also use dowels to attach them or even pre-drill the holes and use screws.
Pretend play is great for the imagination of both kids and parents.  If you would like to join in on the creativity of play food feel free to download our template to cut a piece of toast from a piece of scrap lumber.
Print out the pattern (feel free to scale it to the size you believe best) and attach it to your piece of scrap wood.  There are many ways that you can attach it to the wood such as with double face tape, spray adhesive, carbon paper or iron on transfer paper.
Below is the piece of toast I cut using the scroll saw pattern.
Looking for a holiday craft to do with your kids? This easy to make snowman pillow is a fun project that doubles as a festive holiday decoration. Plus it will be a great place to rest your head if you start to experience holiday fatigue.
Many of our readers likely have seen or made a fleece blanket with the frayed ends tied together. In this project, justbuildstuff.com is going to use a similar process to make a pillow from fleece with a snowman print.
To build this project we used the following-
2/3 yard of fleece
1- 14 inch pillow
scissors
tape measure
To begin, we took the 2/3 yard piece of fleece (it should measure 24″ by 36″) and cut it into two 24″ squares. These two pieces of fleece will be used to cover a 14" square pillow purchased from a local fabric store. After the two 24" squares of fleece were cut, we snipped a five" square from each of the four corners of the fabric so that the center measured a 14" square (the same as the pillow). This is shown in the photo below.
Then we cut each side into 3/4 " wide strips as shown in the photo below.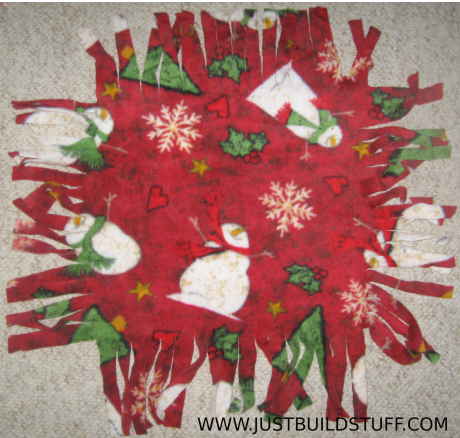 When the edges were cut, we faced the best side of each piece of fleece outward, placed them on top of each other, and begin tying the 3/4″ strips together with square knots. When three sides were tied, it was time to stuff in the pillow as shown below.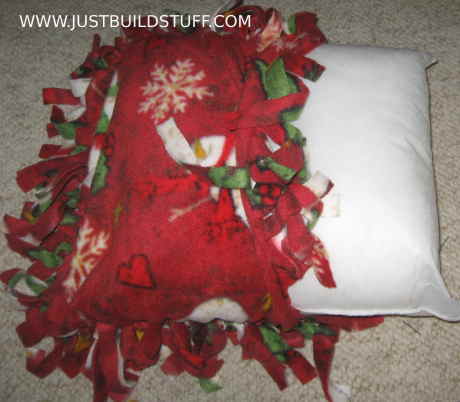 After the pillow was inserted, we tied the final side. It was simple, fun, and it looks great.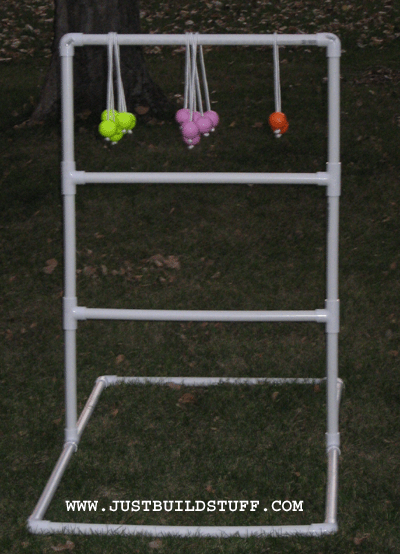 ***Update- There is  now a video version of the ladder golf build click here to view -> http://justbuildstuff.com/?p=448***

Here is another project for our series of how to build toys. This one is a game, one that has recently become popular under many names. I think the most commonly accepted name is ladder ball, but I have seen it referred to as Norwegian Golf, bolo ball, bola ball, hillbilly horseshoes and many others. The game consists of throwing bolas (golf balls on a rope) at a ladder structure; see the Wikipedia page for more information about ladder ball. This is another project that is built almost entirely from pvc pipe, which I find to be incredibly easy to work with and inexpensive to purchase. The project is split into two parts; in the first part, we will build the ladder structure and in the second part, we will make the balls, or bola that are thrown at the ladder structure.
How to build the ladder structure can be found here!
How to make the Bolas can be found here!