How I Made a Yard Dice Game
On a recent camping trip we met some new friends that had a set of large wooden dice.  After playing with these while out camping I just had to make a set of my own.  I decided I would make a set of 5 dice so we could play games like Yatzee.
I thought I had a 4 x 4 laying around at home but alas I did not.  The only place I could find a 4 x 4 that was not treated was my local Menards.  It was about $8 for a 8' piece of white wood.  
A 4 x 4 actually measures about 3.5 x 3.5 so I cut off 3.5 inch blocks from the end of the timber.  
After cutting the blocks I took them over to the router to round the straight cut edges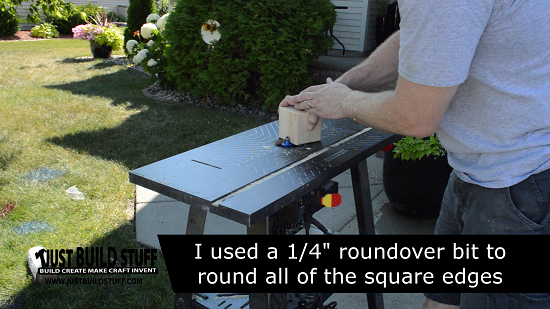 Now it's time to start drilling the holes on the die faces.  
To locate the holes I modeled and 3d printed a drilling template to help save some time.  This was not necessary, it was mostly just to give my 3d printer some work and to practice modeling in Fusion 360.  The model for the template is available by clicking here and it is also available on thingiverse (https://www.thingiverse.com/thing:2474953).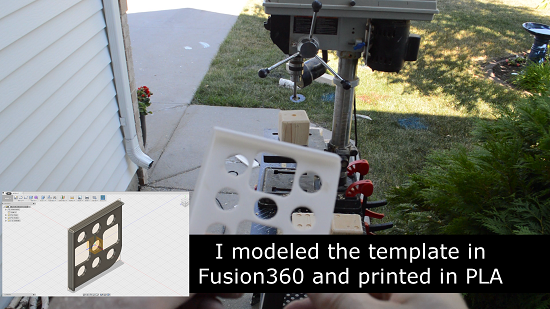 First I marked how many holes to drill in the open box of the template.  I matched the holes from an existing die.  I later learned that the sum of a side and the opposite side should equal 7 for every side of the die…. Interesting.
With the numbers marked I was able to just flip the die and know how many holes to drill without having to check the other sides every time.
Now to add some contrast I took a permanent marker and filled in all the holes. This could also be paint, but permanent marker sounded easiest.
Now I sanded the each side of the die to make sure there would not be any slivers and rough edges.  Sanding also allowed me to clean up some of the black marker accidents that did not stain the wood too badly.
The last step is optional, I ended up making a few sets and experimented with applying some finish to one set of dice.  I used this polycrylic spray I had left over from another project.   I think it adds a little to the looks of the dice and probably helps keep the surface of the wood protected.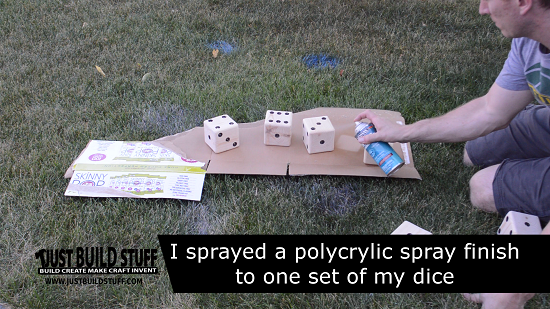 Now that the dice are complete a round of yard dice was in order.  My family just with Yatzee rules, my daughter also wants to try using a sixth die and attempting to play Farkle.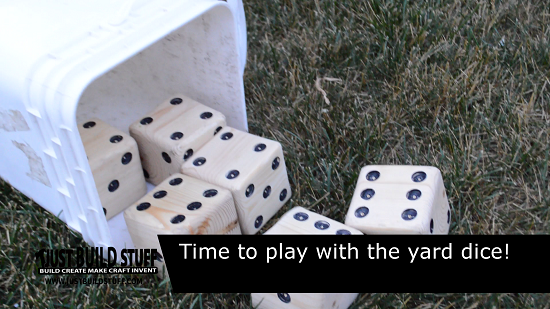 If you know of any other games that are fun to play leave a suggestion below in the comment section.