Paint The Wood Truck!
To add a little flair to the toy truck from the previous posting, we are going to paint it and add a couple of highlight pieces made from a few other scraps lying around the shop.
To paint the truck I used the inexpensive tubes of acrylic paint that can be found at most craft stores.
I painted the body of the truck a crimson red. In order to paint all sides and let them dry at once I left screws in the holes for the front wheels and hung it from my worktable as seen in the photo below.

I painted the wheels black and to let them dry I set them on top of four screws that I ran into a scrap piece of plywood.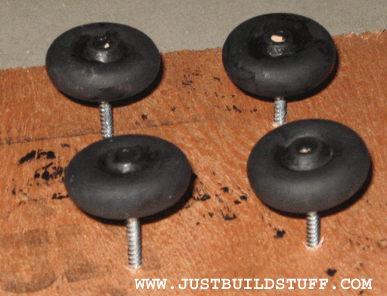 I decided that to flair the project up a little that I would add a bumper made from piece of scrap wood that was just lying on the floor of my shop. I painted the bumper grey. I also had a ½" dowel that I cut two small pieces from and these pieces are the headlights. I painted the headlights white.
After all of the parts were dry, I assembled them into the final truck. I screwed the wheels back on and used brad nails and glue to attach the bumper and glue to attach the headlights.
It was a fun and inexpensive toy project to build and there are many more customizations and improvements that can be made to the truck to make it even better. Thanks for reading www.justbuildstuff.com.