Simple Snowman Fleece Tie Pillow!
Looking for a holiday craft to do with your kids? This easy to make snowman pillow is a fun project that doubles as a festive holiday decoration. Plus it will be a great place to rest your head if you start to experience holiday fatigue.
Many of our readers likely have seen or made a fleece blanket with the frayed ends tied together. In this project, justbuildstuff.com is going to use a similar process to make a pillow from fleece with a snowman print.
To build this project we used the following-
2/3 yard of fleece
1- 14 inch pillow
scissors
tape measure
To begin, we took the 2/3 yard piece of fleece (it should measure 24″ by 36″) and cut it into two 24″ squares. These two pieces of fleece will be used to cover a 14" square pillow purchased from a local fabric store. After the two 24" squares of fleece were cut, we snipped a five" square from each of the four corners of the fabric so that the center measured a 14" square (the same as the pillow). This is shown in the photo below.
Then we cut each side into 3/4 " wide strips as shown in the photo below.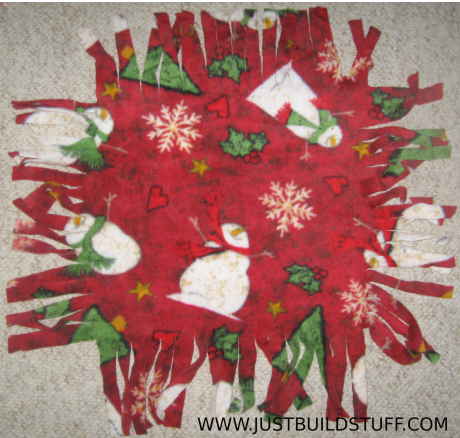 When the edges were cut, we faced the best side of each piece of fleece outward, placed them on top of each other, and begin tying the 3/4″ strips together with square knots. When three sides were tied, it was time to stuff in the pillow as shown below.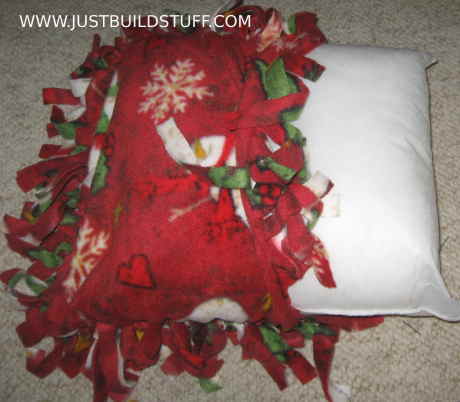 After the pillow was inserted, we tied the final side. It was simple, fun, and it looks great.