PVC Flagpole- The New Version
A few years ago I did a post on how to build a small, slanted flagpole like those seen in many RV parks, you can find links to that four part series here.
Old version- Part 1, Part 2, Part 3, and Part 4
Now, I have done a video and some slight changes/improvements to the design.  The biggest changes are using 1″ instead of 3/4″ PVC pipe and adding a solar spotlight to the back of the flagpole to keep the flag lit at night.  Thanks to Chris Spencer for the idea of adding a solar light to the flag pole.

Tools 
PVC Cutter
Drill with 1/4″ Brad point Bit
Tape Measure
Super Glue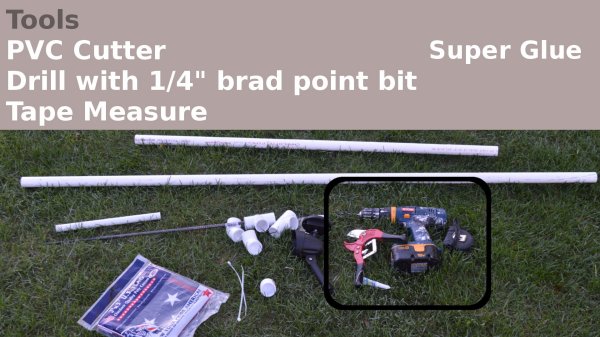 Parts
10 foot long piece of PVC pipe
2- Tee fittings
2 45 degree fittings
1 End cap
Solar Spot Light
Stake (piece of rebar or other)
Hooks (clips, ties, shower curtain rings, ect.)
Short piece of 1/2″ PVC pipe (about 6″ to 1 foot long)